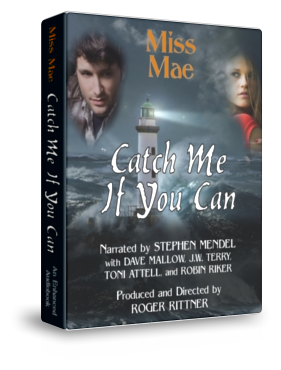 Catch Me If You Can

The exciting new romantic mystery, penned by popular author Miss Mae.
Washed ashore during a raging hurricane,
Lois Steinberg's shelter, an old plantation house, becomes a terrifying maze as Lois races to save her
life ... and keep hidden her mysterious secret.
Deluxe 6-CD set or Instant Download.
Download:
US$ 15.98
instant download
6-CD Set:
US$ 23.98
+$2.50 flat shipping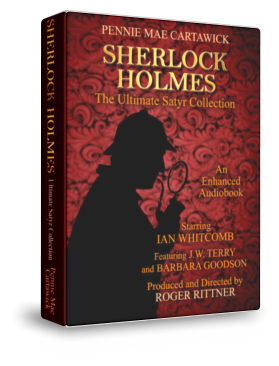 Sherlock Holmes
The Ultimate Satyr Collection
Join Sherlock Holmes and Dr. Watson in 10 new Holmes adventures, penned by popular author Pennie Mae Cartawick. Pop music icon Ian Whitcomb stars as both Holmes and Watson.
Deluxe 5-CD set or Instant Download.
Amazon Top 100 category book sales!
Download:
US$ 10.98
instant download
5-CD Set:
US$ 17.98
+$2.50 flat shipping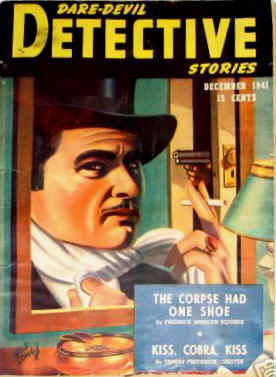 Mr. Potter Finds A Clue
A baffling locked room murder and a suspect with an air-tight alibi are no match for the incredible Mr. Potter.
From Dare-Devil Detective magazine
Download:
US$ 1.98
Audio CD:
US$ 3.98
Bulldog Drummond - The Audio Adventure
A full-cast audio version of the first Bulldog Drummond action adventure. Starring pop music icon Ian Whitcomb and a cast of Hollywood's top voice actors. Produced in full dimensional stereo, with extensive sound effects and period music score.
Deluxe 6-CD set or Instant Download.
Download:
US$ 11.98
Audio CD:
US$ 19.98
+$3.00 flat shipping
---
The Preview players should function in most browsers. If not, click

to download the file to your own player.
Previews are reduced in quality for fast download.
What is "Pulp Radio"?
At the Pulp Radio Network, we've combined two of our favorite entertainment forms – "pulp" fiction and audio drama – to create an exciting new dimension in listening.
We take favorite pulp stories – in all genres – from the popular fiction magazines of the 1920s, '30s, '40s, and '50s ... plus today's popular fiction ... adapt them to the audio format ... then record them in dimensional stereo with professional casts, extensive sound effects, background accents, and period music scores.
The result: cracking good stories like you've never heard them before.
More about Pulp Radio on The Back Page