The Classic Adventure Hero Comes to Audio
in An Exciting New 5-Hour Drama
Listen to a Preview:
Order:
Download:
US$ 11.98

6 Audio CDs:
US$ 19.98

HE'S BEEN CALLED the prototype for James Bond, the inspiration for Doc Savage, and the model for numerous pulp heroes.
He's BULLDOG DRUMMOND, wealthy World War I veteran who, "finding peace incredibly tedious, would welcome diversion. Crime, if of a humorous description, no objection. Excitement essential."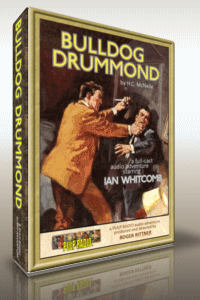 Here is a new full-cast audio version of the first installment in the long line of Bulldog Drummond action adventures by H.C. McNeile.
It pits Hugh "Bulldog" Drummond against super-villain Carl Peterson, who plots to take over England and turn it into a communist country.
Joining Drummond in the rousing adventure – the action stretches from France to Switzerland to England – are Drummond's five stalwart comrades, as well as Peterson's gang of international anarchists.
Along the way, Drummond finds love, but must resist the wiles of one of British literature's most infamous femmes fatales.
BULLDOG DRUMMOND stars pop music icon IAN WHITCOMB, and features a cast of Hollywood's top voice actors.
Produced in full dimensional stereo, this five-hour adventure is enhanced with extensive sound effects and complete period music score. Plus special bonus tracks!
Listen to producer Roger Rittner and stars Bentley Barlock and Robin Riker
on "Don't Touch That Dial!" (52 mins.)
Order Now!
Download: US$ 11.98
6 Audio CDs: US$ 19.98
The Preview players should function in most browsers. If not, click

to download the file to your own player.
Previews are reduced in quality for fast download.