Don't confuse this with an ordinary Audiobook! Our extended-length productions include multiple actors, extensive sound effects, background accents, and full music score. Just like all of our Pulp Radio productions.
We call them "Enhanced", but you'll call them Exciting!
---
The Case of the Cursed Dodo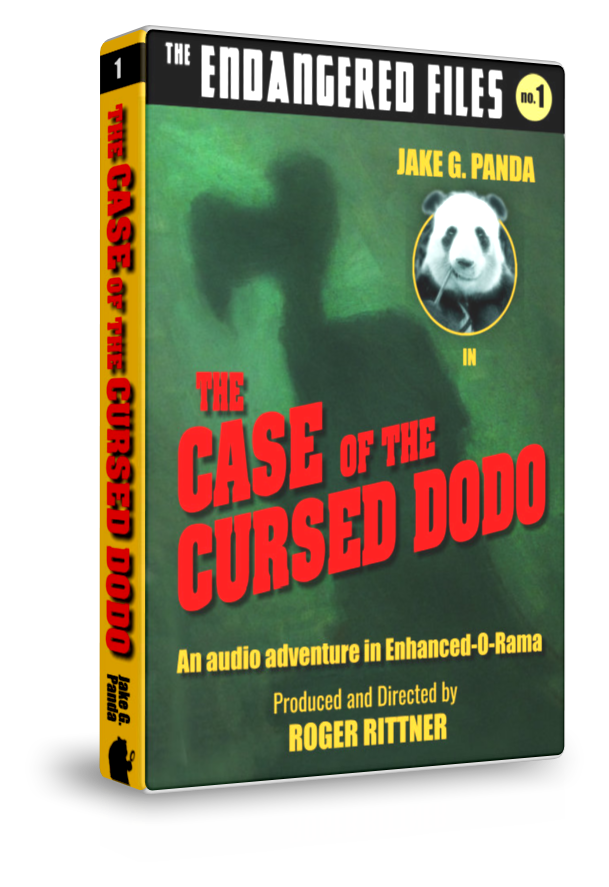 The outrageous escapades of Jake G. Panda, starring - who else - Jake G. Panda.
This hilarious first entry in
The Endangered Files follows Jake,
the hard-boiled panda detective, and an unusual cast of endangered creatures on a wild and woolly globe-trotting adventure involving a lost suitcase, a green bird, and a bunch of double-crossing critters all hot on the trail of The Last Dodo.
Deluxe 3-CD set in Library Case
or Instant Download.
Deluxe
3-CD Set:
US$ 12.98
+$2.50 flat shipping
Instant
Download:
US$ 7.98


The Case of the Cursed Dodo
(5:20)
Producer/Director Roger Rittner and star Miss Peggy Judy guest on Don't Touch That Dial, with behind-the-scenes "making of" stories and extended audio excerpts from Jake's adventure.
---
Raves from people who loved the book:
"'It's A Mad, Mad, Mad, Mad World' meets 'The Maltese Falcon'. With plenty of jokes, gags, and stunts, The Case of the Cursed Dodo will keep you laughing out loud."
Peggy Tibbetts (Vine Voice)
"The endangered animal aspect of the story is engaging."
Kristi's Book Nook
"Chock-full of hair-raising adventure and punny, sarcastic wit."
Dawn Teresa, DawnReadLove
"It's creative, funny, and filled with suspense. And how can you go wrong with having a panda bear on the case!"
BearsRScary
"I like the puns, how the characters survive the disasters, and the ending is fabulous."
Jo Ann Hakola
"... follows in the Noir tradition of the old fifties and sixties detective stories: a hard-boiled detective who seems to attract trouble, a shady trouble maker that lurks in the shadows, a dame that reappears after an extended absence, and multiple sidekicks that help our detective put all of the clues together to solve the case."
Beth H.
Now Jake comes to life
in this exciting audio adventure!
---